Alton Main Street Newsletter February 2023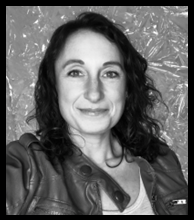 Director's Note ~
We are happy to spread the word about a unique opportunity for you to have a family heirloom created at The Grapevine children's boutique, located at 2 W. Broadway! On Monday, February 13th, America's premier silhouette artist Tim Arnold will be in the store creating this rare art form. Tim tours from state to state appearing in children's specialty shops and department stores, and takes appointments to hand-cut silhouettes of your loved ones while you wait for a cost of $50. Tim's work is exquisitely detailed and would make a perfect Valentine's Day gift. Limited time slots remain, to make your appointment please call The Grapevine at 618-462-6502.
~ Sara McGibany, Executive Director
Here's a love story for Valentine's month…The Old Bakery Beer Company + Flourish Farmstead = relationship goals!
Shop with your gals or for your gal at the Galentine's Day Market at The Old Bakery Beer Co. on Sun, Feb 12th from 11:30am- 3:30pm. Enjoy a beer and truffle pairing while perusing wares from 14 local artisans, then make your own  aphrodisiac tea blend with Crystal Stevens from Flourish Farmstead! OBBC will have some extra special merch available for sale at the event as well as food and drink specials.
Old Bakery and Flourish share a strong symbiotic relationship as partners in Herbarium, a sparkling herbal tea which launched its first two flavors, ginger roselle and lavender lemongrass, in March of 2022. The two entities collaborate on flavors, the herbs are grown at Flourish Farmstead, and the final product is produced and canned at the brewery!
Old Bakery will soon be the new home of Flourish Farmstead's apothecary shelves, where you can pick up herbal products  7 days a week! Owner Crystal Stevens is a professional herbalist, who also operates Flourish Folk School at her family's farm along the river road in Godfrey. They offer an abundance of educational workshops; this spring's offerings include an elderberry propagation workshop, botanical teas and remedies workshop, spring equinox herbal gathering, spring foraging   intensive, and gardening 101 classes.
Catch Crystal's  pop-up apothecary at two additional downtown locations soon: Fri, Jan 27th & Sat, Jan 28th at the Jammin' at the Springs concert at Mineral Springs Mall and also on Sat, Feb 11th from 9:30-11am at Germania Brew Haus (617 E. Broadway).
For more info, visit:
FlourishFarmstead.com or
DrinkHerbarium.com
We love to report on collaborations between local businesses — if you have a tip for a story that we should share in future editions please let us know!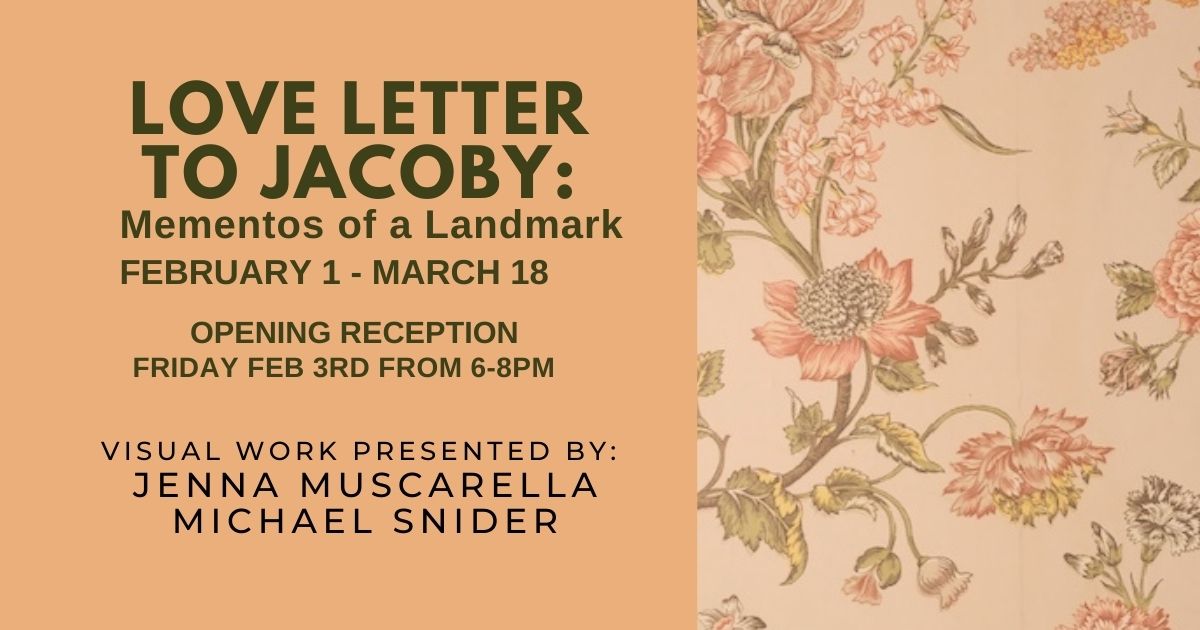 Love Letter to Jacoby
An exhibit by Michael Snider & Jenna Muscarella
At Jacoby Arts Center (627 E Broadway)
On display Feb 1 — March 18
"Love Letter to Jacoby is a retrospective of the building, highlighting the beginning functions of the building to the present day. Most of the exhibit focuses on the architecture, design, and history of the building. Specifically, I am going for a retro, bossanova-like furniture store vibe. Think elevator music, classy, mid    century modern. The floral image on the postcard design is the actual wallpaper found on the upper level floors and inspiration for one of my large paintings. This is to give viewers an insight of what "once was"." ~ Jenna Muscarella
Michael Snider has assembled a jaw-dropping historical archive of posters and advertisements from concerts and other events held in Alton, which spans     decades and covers 1,000 square feet of the gallery walls.
Don't miss the Opening Reception on Friday, February 3rd from 6-8pm—meet the artists, bar, food, live music and artist networking!
Showings and Receptions at Jacoby are always FREE & open to the public! Gallery Hours: Wednesday-Saturday 10am-5pm, Sunday 12-4pm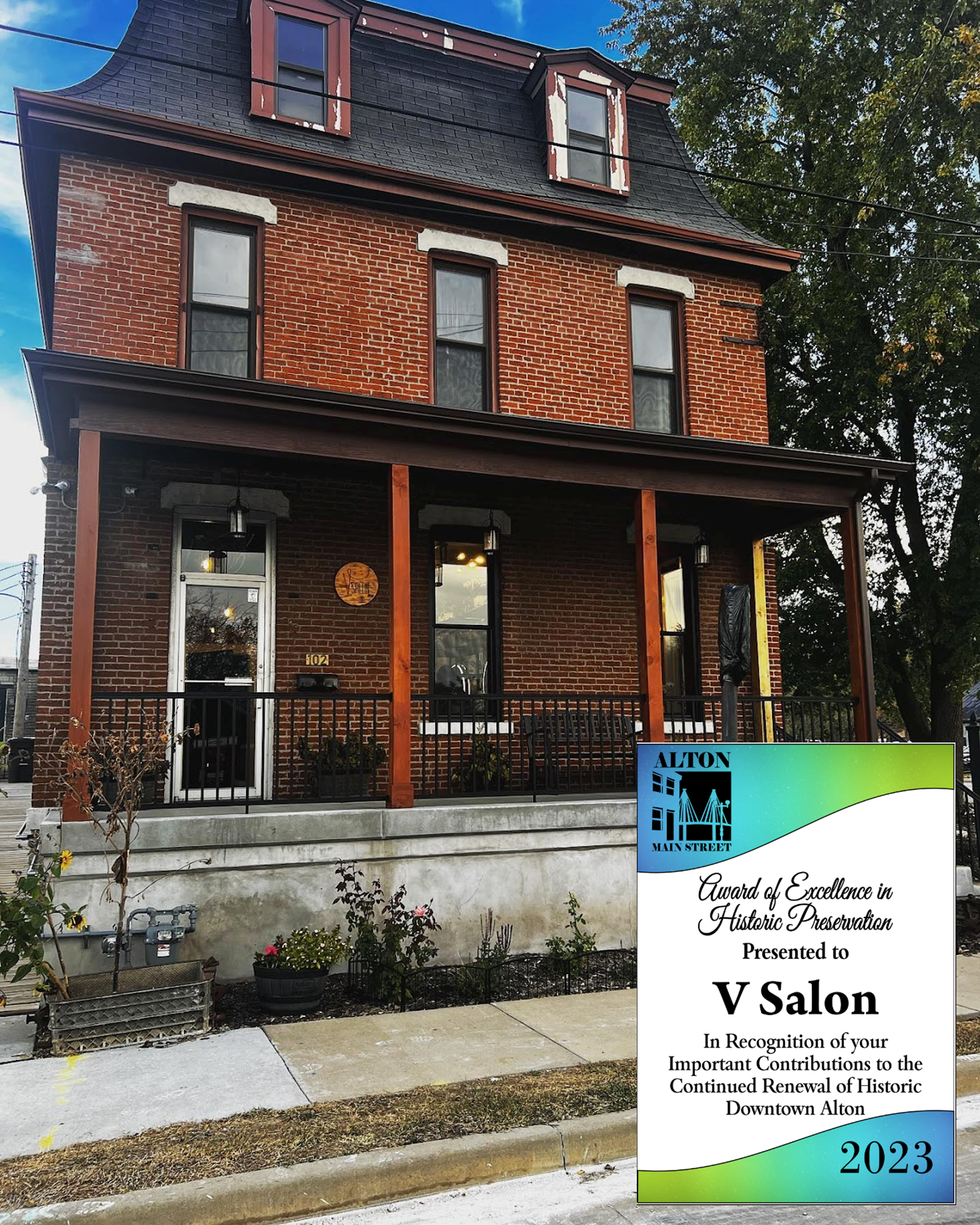 Appreciation Awards 2023
Recognizing people, businesses, and organizations who have made important contributions to the continued renewal of historic Downtown Alton
Partner of the Year
Pride, Incorporated
Award of Excellence in Historic Preservation
V Salon
Volunteer of the Year
Kitty Edelen
Extra Mile Award
Alderman Ray Strebel  
Business of the Year
Rushmore
Lifetime Achievement Award
Sam Balaco II

Patrons of the Year
John & Jayne Simmons
For details, please visit www.Facebook.com/AltonMainStreet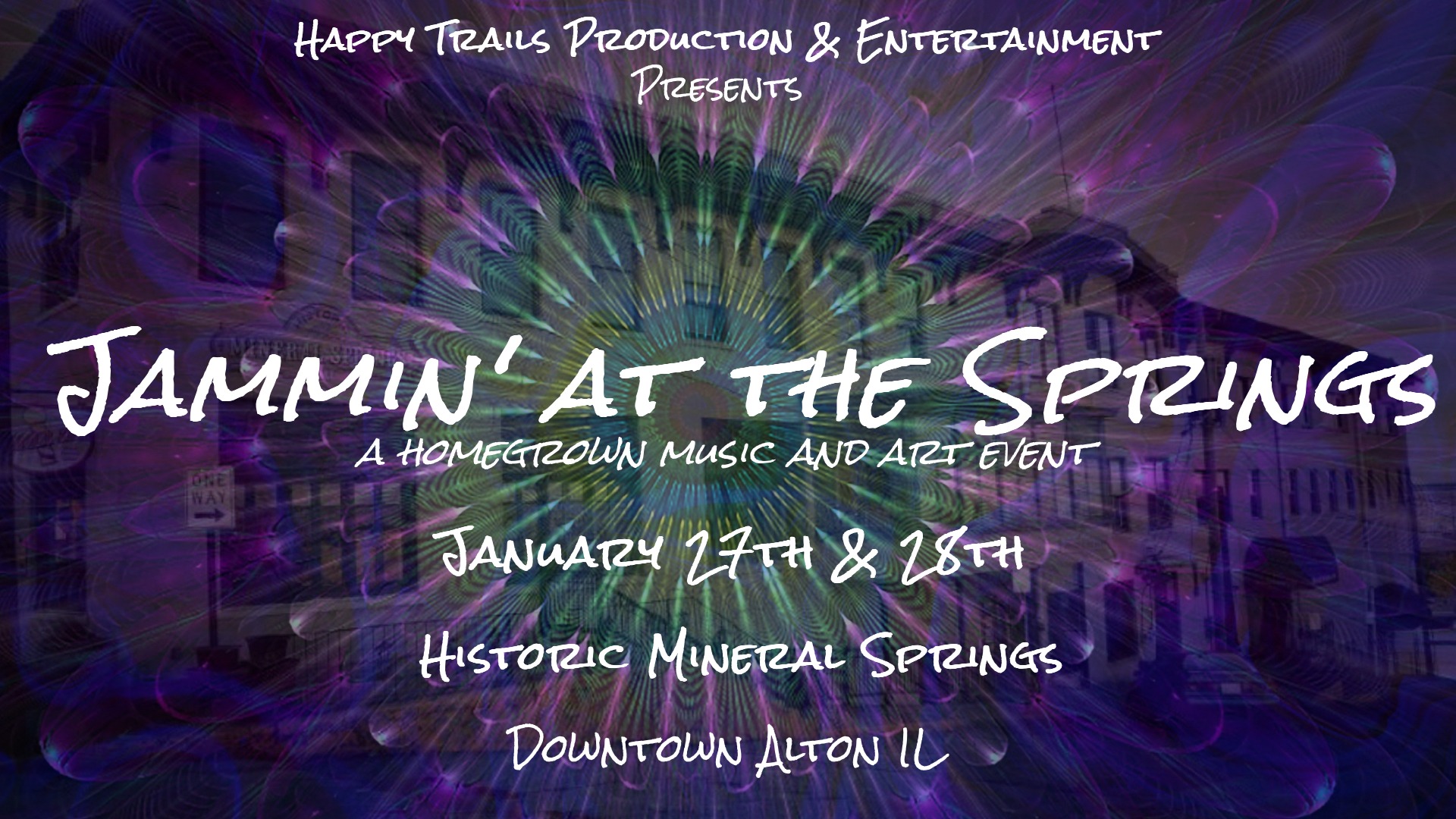 Happy Trails Production & Entertainment presents…Jammin' at the Springs!
Fri, Jan 27th from 2pm—1am & Sat, Jan 28th from Noon—1am
at Mineral Springs Mall, located at 301 E. Broadway
Don't miss this two-day, homegrown music and art event featuring music from a dozen awesome local bands, including: Clusterpluck, One Way Traffic, Loftys Comet, Hope & Therapy and many more. Plus local artists, including a Kooliverse installation from local legend Michael Snider! Food and beverages will be available from The Old Bakery Beer Company. Tickets are $20 at the door for each day. There will be after parties both nights at The Conservatory, located at 554 E. Broadway, with more live local music!
CLICK HERE for full details
River Bend Yoga
will be offering their 200-hour, Yoga Alliance accredited, Teacher Training Program once again this year! It is the only locally accredited school in Madison County. The training will take place one weekend per month from Feb- Nov 2023. River Bend Yoga is also excited to  announce the newest addition to their offerings for the community, a 300-hour YTT which is an  advanced training to help deepen your knowledge and transform your practice. For more info, please contact owner Vicky Delaney at 618-581-5691, [email protected], or by sending a message to their Facebook page: www.facebook.com/RiverbendYoga.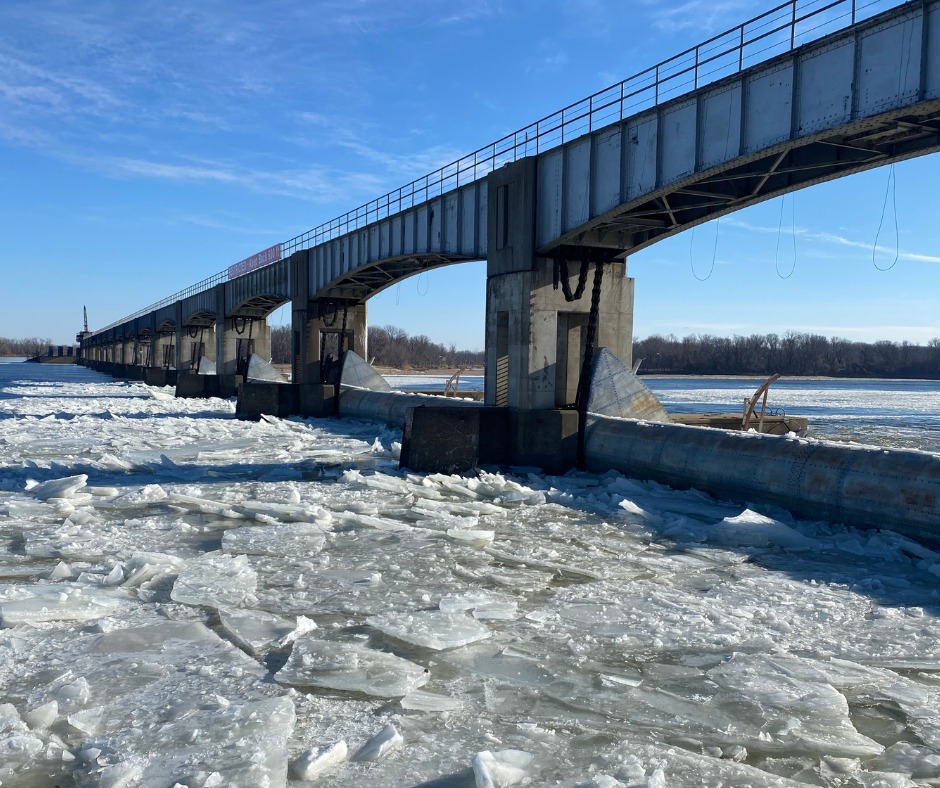 National Great Rivers Museum
On Sat, Feb 18th from 10am–4pm, defy the Midwest cold and enjoy winter along the Mississippi River by jammin' at the Melvin Price Locks and Dam and National Great Rivers  Museum! The Rivers Project's 2nd annual Ice Jam at the Dam is an outdoor, winter-themed festival to promote outdoor recreation and celebrate all things icy along the river. The event will feature live music from Chris Cahill & Co., tours of the locks and dam, warm food and beverage vendors, Park Ranger campfire programs, educational booths, and more!
CLICK HERE for full details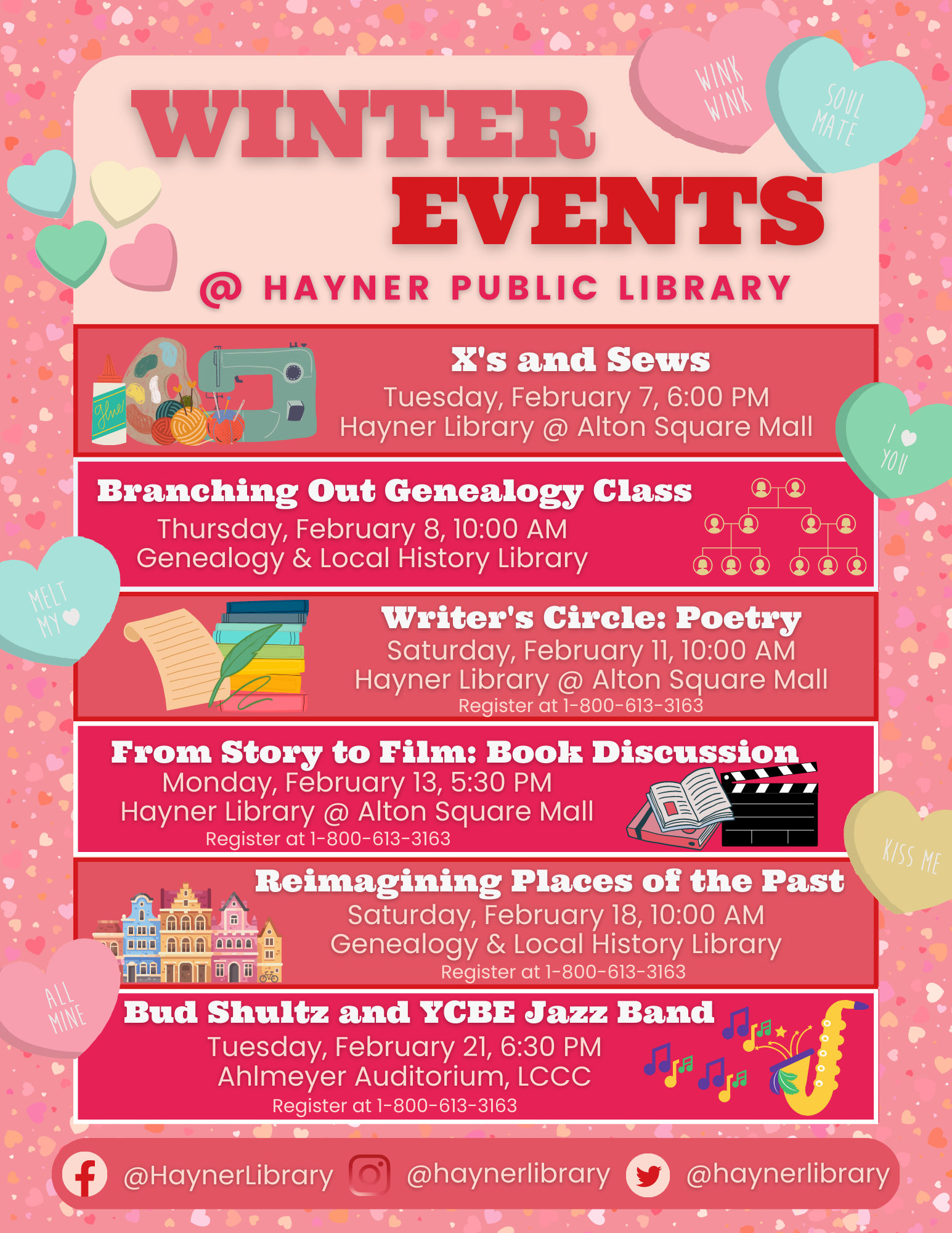 The Hayner Public Library District
Whatever your interests, we have a program for you in February! You can join your fellow crafters at our "Xs and Sews" crafting club, or research your family tree at one of our "Branching Out" Genealogy Classes. We are also offering a new club for writers! Read and watch as we trace how books become films in "From Story to Film", or see the final performance of Bud Shultz and his You Can't Beat Experience Jazz Band at Ahlmeyer Auditorium. There's fun to be had for all!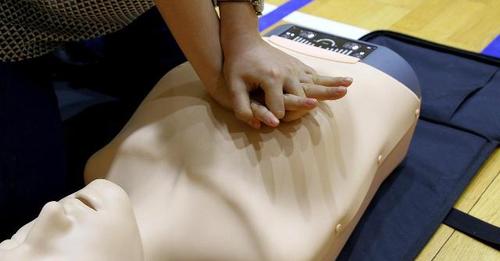 OSF Saint Anthony's Health Center
Interest in CPR training has surged due to the Damar Hamlin emergency as millions of viewers watched medical staff save the life of the Buffalo Bills player during an NFL Football game. Area residents are encouraged to attend our upcoming first aid and CPR training class which will prepare you to take action if necessary. Join us on Mon, Feb 6th from 5:30– 8pm at 1 St. Anthony's Way, in the   hospital's Perpetual Help Center. The deadline to register is Fri, Feb 3rd, and the cost is $65/person. To register, call 618-920-6816 or email [email protected]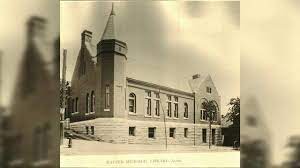 Hayner Public Library & Alton Area Landmarks Association
Invite you to their upcoming Historic Preservation Lectures called Reimagining Places of the Past, taking place at the Genealogy & Local History Library, 401 State Street. On Sat, Feb 18th at 10am, learn "How to Plan, Plant, and Care for Urban Trees" with presenter Emily Ehley. On Sat, March 18th at 10am, learn about Architect Theodore Link, who is best known for designing Union Station Railroad Depot in St. Louis, but he also designed the Jennie D. Hayner Memorial Library Building and the Genealogy & Local History Library! Presenter John Magurany will share info about Link's residential & commercial work in the Alton-Godfrey area.