Alton Main Street Newsletter January 2023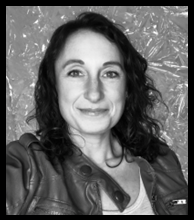 Director's Note ~
With a new year comes a changing of the guard in the leadership of our organization, and we would like to thank Emily Keener, Jenna Muscarella, Sydnie Rushing, Keljon Byrd and Hugh Halter for all of the time and talent they've shared to advance the goals of Alton Main Street. We appreciate all of you very much!
AMS extends a warm welcome to the incoming members of our Board of Directors for 2023: Penny Schmidt, Caleb Lewis, Hope Mader, Sally Kirbach, Bailey Shaw, Justin Level, and Christine Favilla. We are excited to bring these remarkable people onto our team and get the ball rolling for the coming year. To show your support, please visit DowntownAlton.com – Join Us!
~ Sara McGibany, Executive Director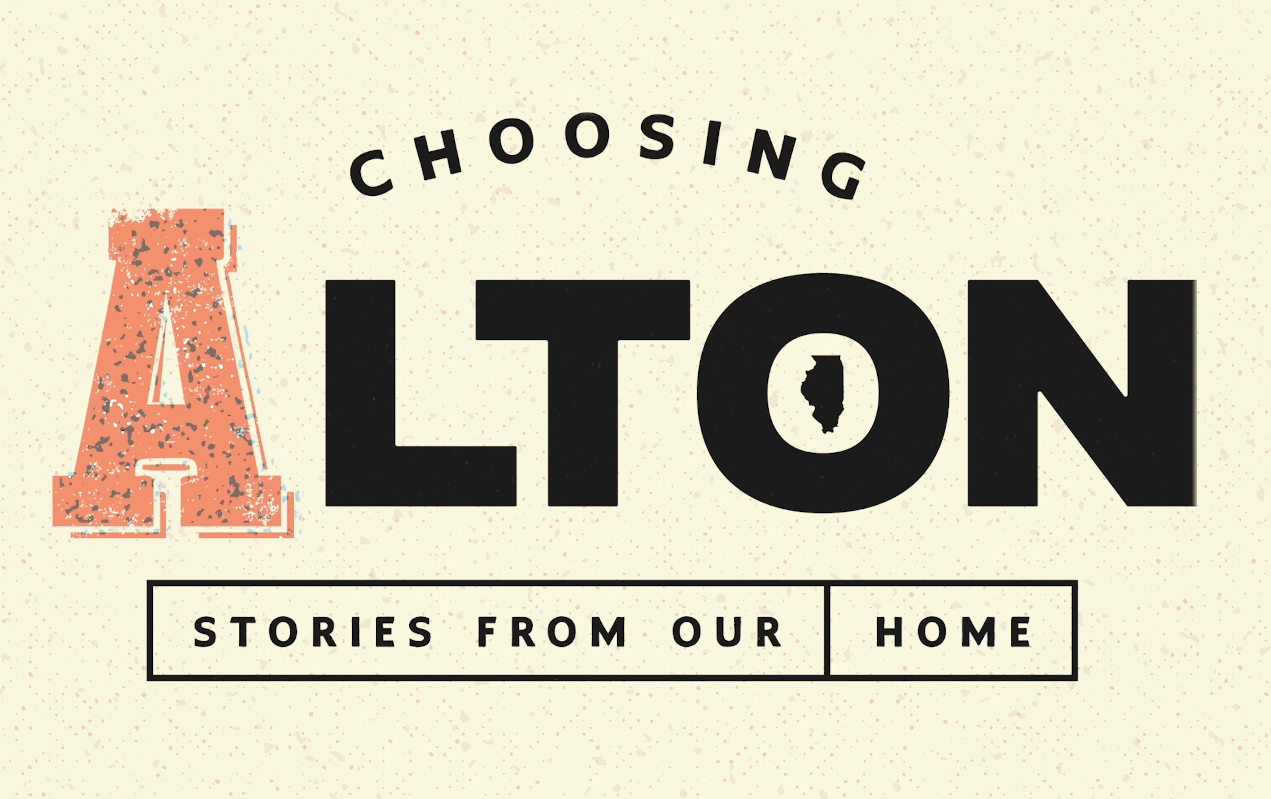 Entrepreneurs, developers, artists and creatives of all kinds are choosing to move to, or return to, Alton. Learn their stories.
Alton Main Street has launched a new video storytelling series called Choosing Alton, which shares the tales of why interesting and diverse people have decided to lay down roots in our community. Choosing Alton was conceived by Roger Lewis, who serves on our Board of Directors. "You never know who you are next to in line at the grocery store or who may be filling their gas tank on the other side of the pump," he shared, adding "Your neighbor may have a compelling story of where they are from and how they landed next door to you, and it could be a story you never knew. We decided to start telling these stories." Lewis served as Producer of the series, which was funded by Executive Producer John Simmons. Local media company Shift Agency was hired to film and edit the episodes which are between 15-20 minutes long. The entire 12-episode series is available for viewing now at DowntownAlton.com/ChoosingAlton.
Our aim with this project is to instill a sense of community pride and introduce or reiterate all of the reasons why Alton is a great place to live. We have been considering creative ways to turn Alton's population decline around. We hope that the stories you'll learn about in Choosing Alton will effect decisions of current residents to stay and persuade anyone who is scouting a move to a new community to keep Alton front of mind. Choosing Alton delves into details in casual conversations that focus on the reasons why a diverse and interesting segment of the Alton population has chosen to live here. You will learn of interviewees' life circumstances, interests and experiences which led them to choose Alton as a place to live, learn and enjoy.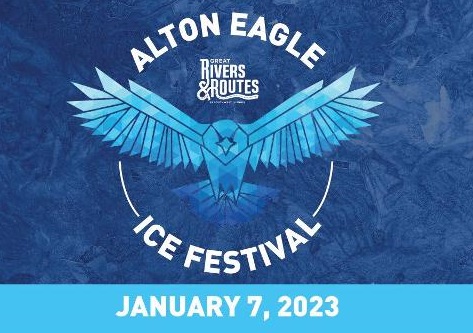 Alton Eagle Ice Festival
On Sat, Jan 7th from 10am-2pm enjoy a variety of fun winter activities for all ages in celebration of the return of our wintering American Bald Eagles! Head to FLOCK Food Truck Park to see a live eagle from the World Bird Sanctuary and get your picture taken with America's national animal. Grab a bite to eat from a food truck and a beverage from the FLOCK bar while enjoying DJ tunes, live ice carvers, Eagle Fest Beer from The Old Bakery Beer Company, fire pits with s'mores kits, face painting & more!
The celebration will also take place at the following locations: at the National Great Rivers Museum you'll enjoy expert speakers, films, spotting scopes, and crafts. At the Audubon Center at Riverlands you can visit live birds from the TreeHouse Wildlife Center, go on a guided bird hike, and more. The Lewis & Clark Confluence Tower will be selling tickets all day for tours to see eagles from 50, 100 and 150 feet high. There will also be a free Birds of Winter educational session featuring local raptors from TreeHouse Wildlife Center from 11am-1pm.
90-minute guided Eagle-watching shuttle tours will depart from the Alton Visitor's Center at 11am and 1pm, showcasing the best places to view eagles along the great rivers. $15 Tickets are available at RiversandRoutes.com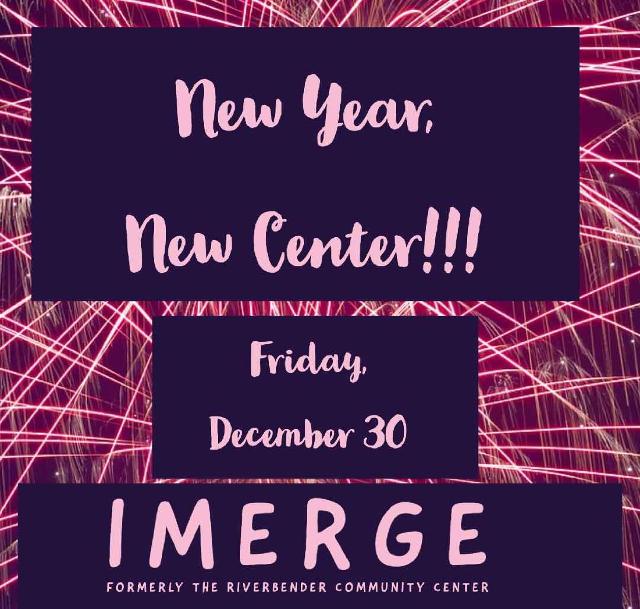 New year, new name, same mission—we welcome the iMerge Community Center!
While the name Riverbender Community Center has ended, the mission will continue to thrive at 200 W. 3rd Street in the form of the iMerge Community Center, a new nonprofit created to manage the facility. The center's grand opening is set for 6:30pm on Fri, Dec 30th to help ring in the New Year. There will be activities, music, an early countdown to 9pm including a balloon drop, and much more. Your $12 ticket includes all games and activities, and food will be available for purchase. Tickets can be purchased at imergecommunitycenter.org.
The center's popular FRIDAY NIGHT OPEN PLAY NIGHTS will return at a new time: 6:30-10:00pm, and new Saturday afternoon hours will be announced in the near future.
Volunteers are needed in technology, gaming, cleaning, building repair, chaperoning, fundraising, concessions, and new program development. Donations are an important part of the puzzle as well; to make a financial gift to help get the center off to a great start, please visit imergecommunitycenter.org!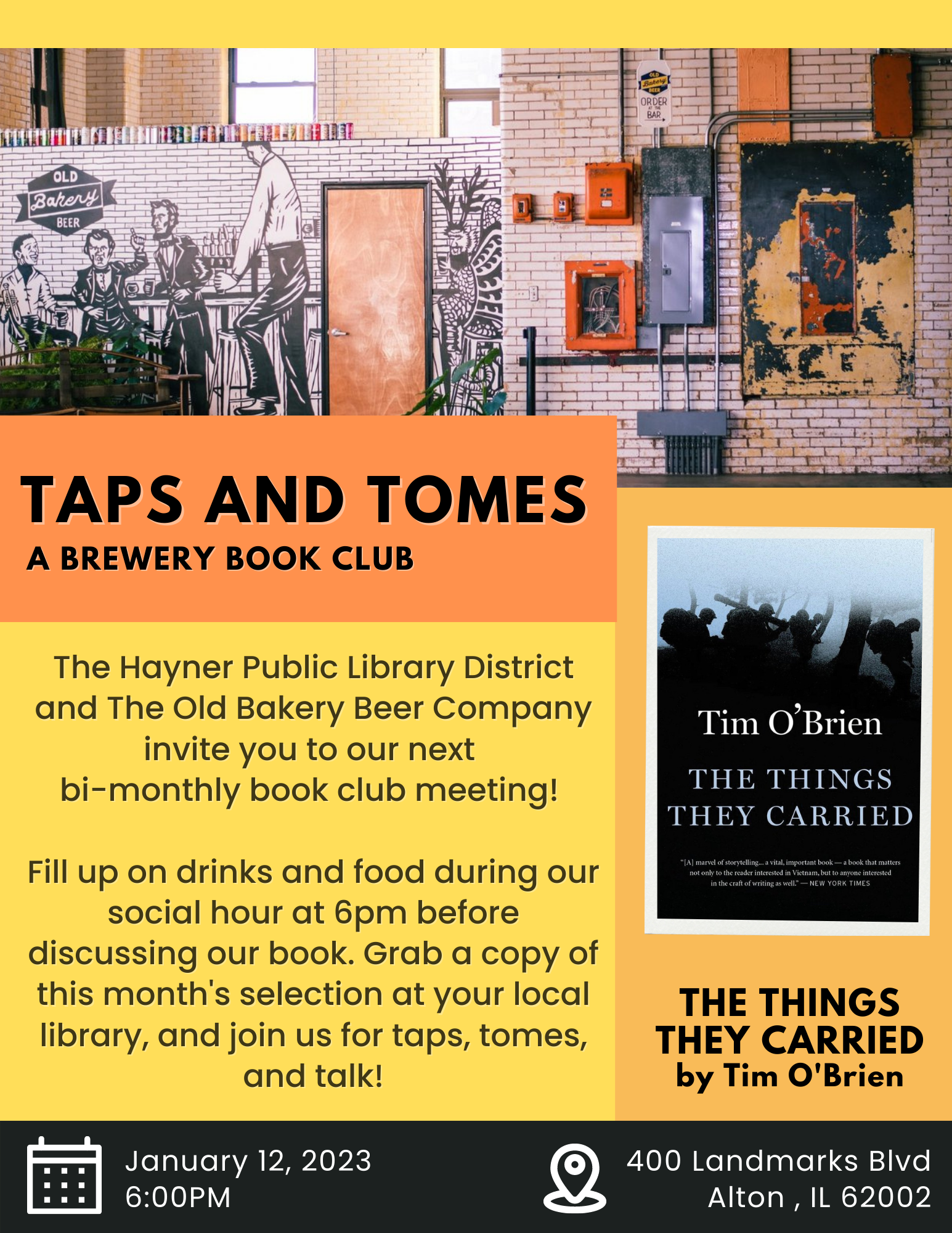 The Old Bakery Beer Company
In partnership with Hayner Library, we are hosting the 2nd meeting of our book club, Taps and Tomes, on Jan 12th!  It will start with a social hour from 6-7pm to allow everyone to place their food and drink orders and meet their fellow book club members. The book discussion will follow from 7-8pm. Participants will discuss The Things They Carried by Tim O'Brien. Come meet up with some fellow book lovers for a casual guided conversation and a beer. No registration required, it's free to attend! Check out the e-book or physical book from your library.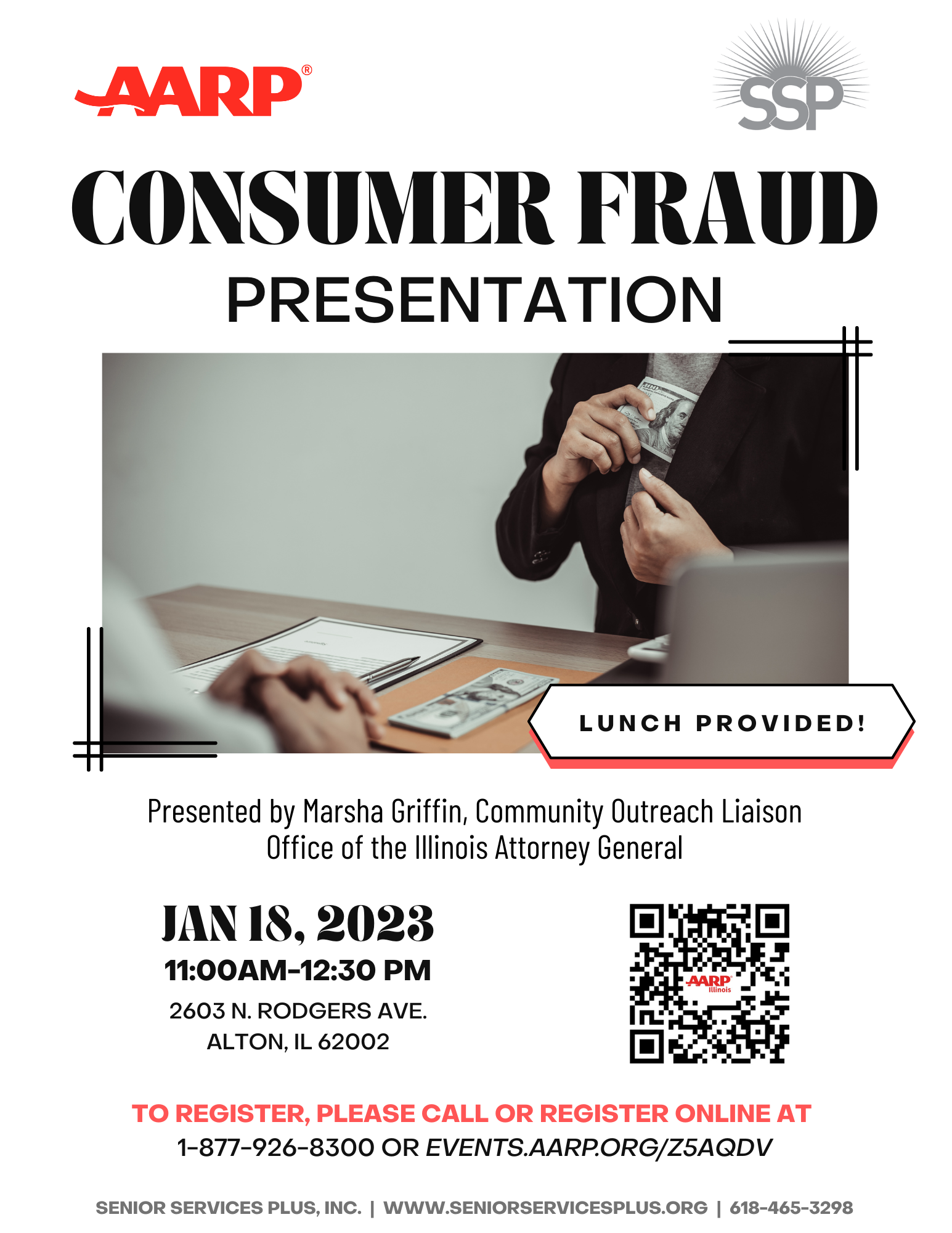 Senior Services Plus
SSP will be hosting a Consumer Fraud presentation on Wed, Jan 18th from 11am-12:30pm with Marsha Griffin, Community Outreach Liaison for the Office of the Attorney General. The event is sponsored by AARP and lunch is provided. To register: 1-877-926-8300.
OSF St. Anthony's Psychological Services will host anxiety and depression screenings on 1/19, 4/20, 7/27, and 10/19 from 11am-1pm. Walk-ins are welcome. SSP is located at 2603 North Rodgers Ave. For info 618-465-3298.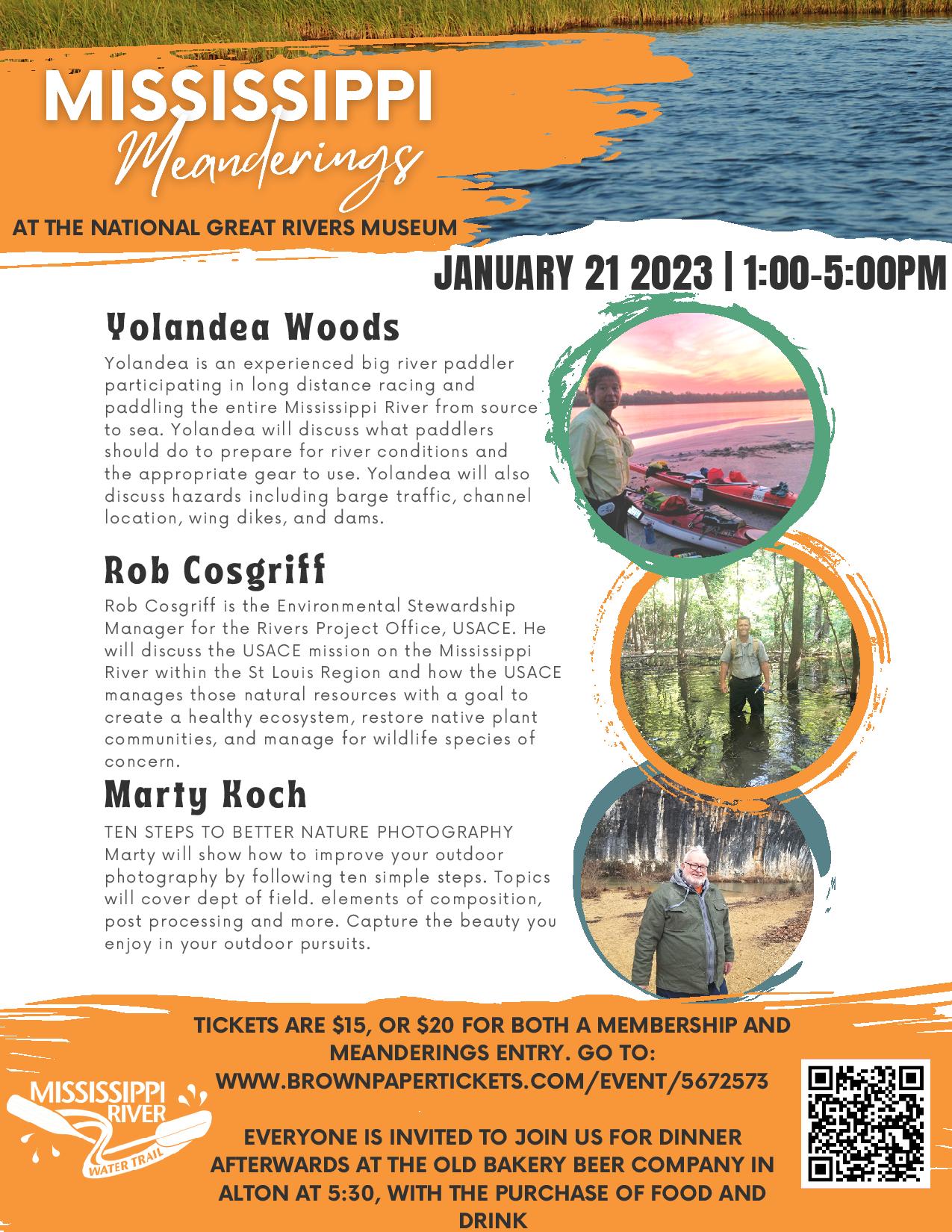 National Great Rivers Museum
Join us as we host the Mississippi River Water Trail's monthly speaker series on Jan 21st from 1-5pm. Yolandea Woods, who has paddled the entire Mississippi River from source to sea, will discuss preparing for river conditions, appropriate gear, and hazards. Environmental Stewardship Manager Rob Cosgriff will discuss the US Army Corps of Engineers' mission and management of natural resources. Marty Koch will show how to improve your outdoor photography by following ten simple steps. $15 tickets can be purchased at brownpapertickets.com/event/5672573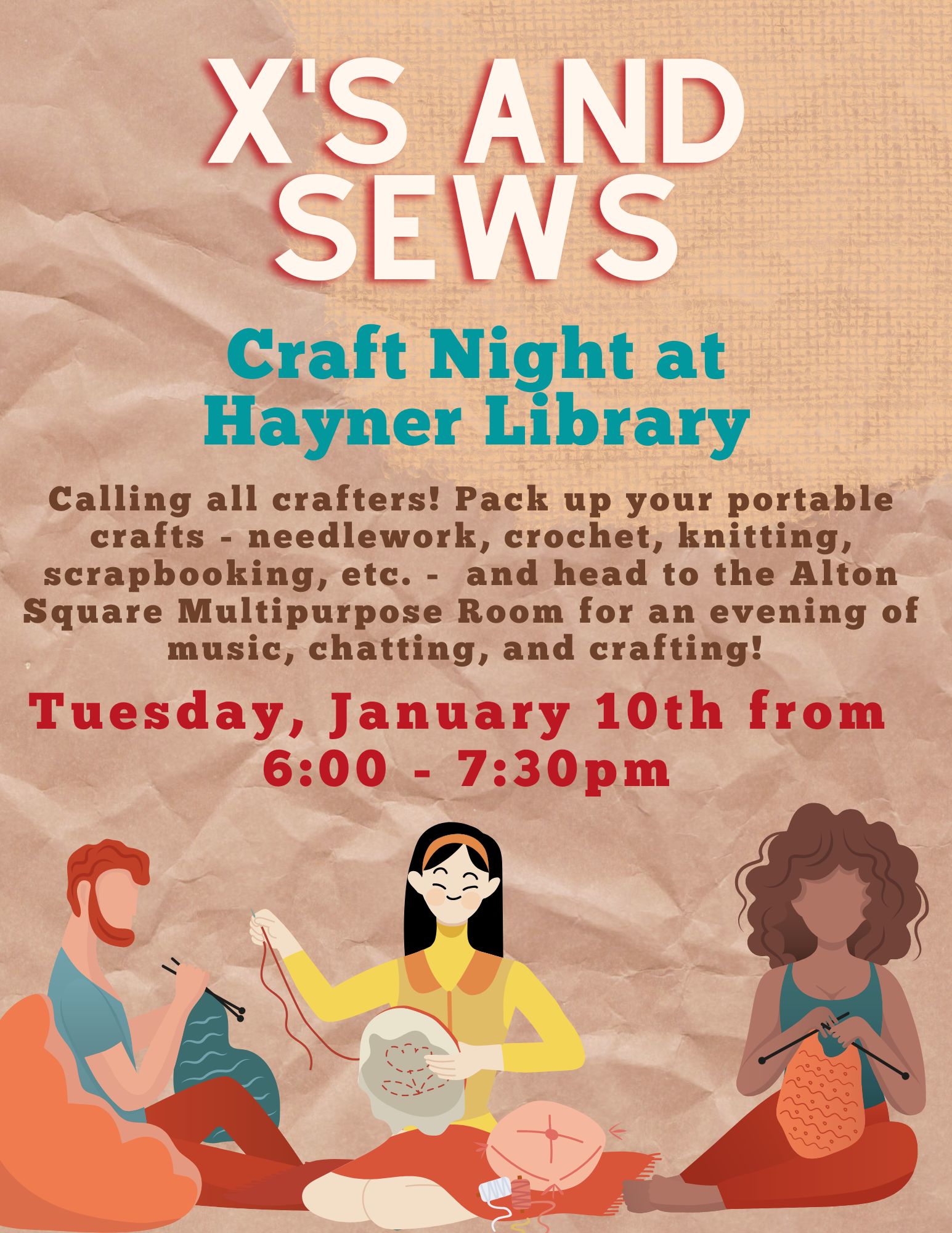 The Hayner Public Library District
Calling all crafters—if your project can be transported with ease, come join us if you please! X's and Sews is a new program for all to come and work alongside their fellow crafters while listening to relaxing music, warming up with a mug of hot tea, and chatting. All crafts welcome—embroidery, knitting, crochet, drawing, scrapbooking, cross-stitch, jewelry making, origami, quilting, wood-carving, you name it!  Jan 10th from 6-7:30pm in the Multipurpose Room at our Alton Square Mall branch.
Mom Said No
Is thrilled to announce its expansion within the walls of the historic Mineral Springs Hotel, at 301 E. Broadway. Mom Said No has expanded its inventory, aimed at kids aged 2 to 102. The shop is filled with vintage comics, toys for children of all ages, Funko Pops, classic horror collectibles, posters, a Pride section, board games, animal plushies, Star Wars memorabilia, backpacks, retro toys and games, gift ideas, and much more.
The move also allows its sister shop, Mississippi Hippie, to also expand its boho clothing, tapestry, jewelry and purse collection along with an even larger Grateful Dead store, offering the largest selection of Grateful Dead clothing in the entire region! Mom Said No is open 11am-5pm Tues-Thurs, 11am-6pm Fri & Sat, and noon-4pm on Sundays. For more information, call (618) 789-7867 or visit the Facebook or Instagram pages.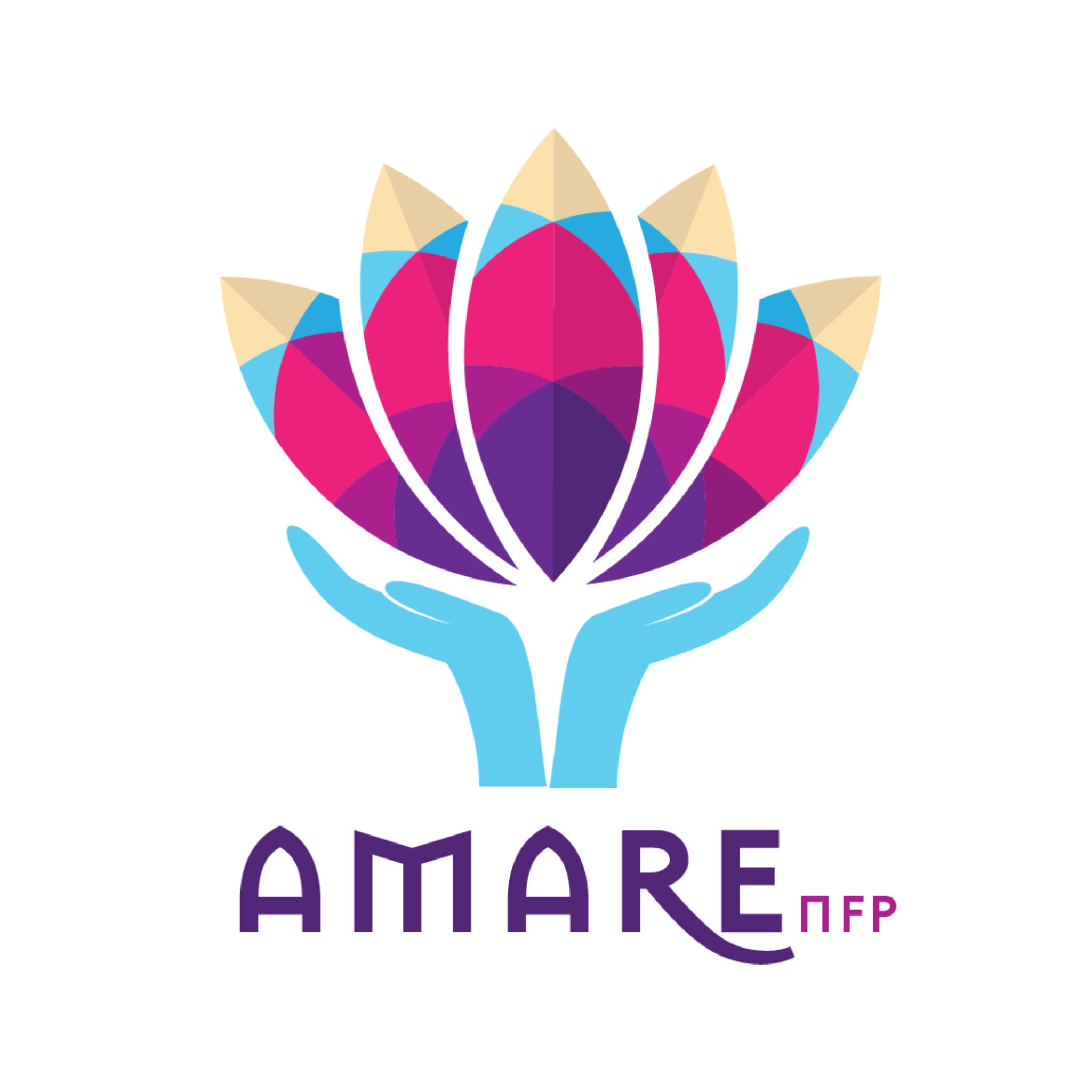 Amare
Is a valued community organization that educates, empowers, and provides compassionate recovery support services for those suffering from drug and alcohol addiction and their families to strive toward our communities' overall wellness and stability. Services include recovery coaching, family recovery coaching, and linkage to clinical services.
Amare is accepting volunteers and donations to help more families in need. You can donate by sending a check payable to Amare to P.O. Box 384, Wood River, IL, or give online at givebutter.com/prNmah.