Alton City-Wide Litter Clean-Ups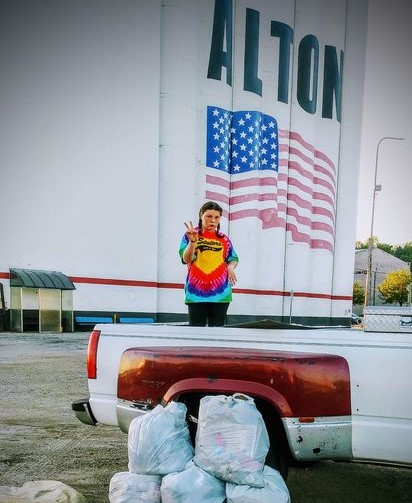 The biannual City Wide Litter Clean Ups will take place on April 23rd & September 10th, led by Pride, Incorporated!
Dozens of organizations and businesses pick up litter in their adopted areas which cover the main thoroughfares in town, and registration stations will be available to provide individuals with supplies to clean up their neighborhoods. Check back soon for full details. We hope you will jump on board and pitch in!
If you would like to  interact with others who are dedicated to picking up litter throughout the year,  join the Facebook group Riverbend Trashtag Challenge!
---
Thanks to these amazing organizations and businesses for regularly pitching in to clean up the following areas:
Alton Main Street – 3rd / State / Belle Streets
North Alton/Godfrey Business Council – Rozier St. from State to Confederate cemetery & North Alton Central Business District
Upper Alton Association – Upper Alton Biz District Square (College, Main, Washington, Brown)
100 Black Men of Alton – Belle Street from 20th St. to the Old Belle triangle
NAACP Alton Branch – Central Ave, from Royal to 7th St.
Mississippi Landing Lofts – Broadway from Piasa to Henry
Rushmore – Broadway from Piasa to Henry
Ardent Mills – Broadway in front of the plant (both sides) and Williams Street
Illinois Natural History Survey – Union from Henry to Central & side streets
Jacoby Arts Center – Broadway from Henry to Ridge & the parking lot behind KFC
Jennifer Bishop School of Dance – Parking lot at Broadway and Ridge St. and surrounding area
Sierra Club, Piasa Palisades Group – Great River Road from the Ardent Mills to the Welcome to Alton sign
Wild Trak Bike Club – Salu Street from Elizabeth to Holman Street
East End Improvement Association – Broadway from Washington to Main St.
Tammy Smith & Friends – Hampton, Highland, Gold, Silver, Harrison, and Garden Streets
Dunbar Lodge #97 – Killion Park
Relief Society from the Church of Jesus Christ of Latter Day Saints – North Henry St. from 20th to Elm
Alton Fire Department – 20th from Alby to MLK Drive and College from Worden to the old train station
Childrens' Tribe – 600 block of Anderson St.
Child's Play – 12th Street
Trinity's Way – Train station & Elm St. from Club Paws to Alby
YouthBuild AmeriCorps – 5th-7th Street from Ridge to Cherry St.
Campbell's Construction and Restoration – Central Ave from the circle to Royal St., plus nearby side-streets: Highland, Elliot, Royal & Diamond
LuckyPets Pawsitive Pet Care – Delmar Ave from Alby to State
YWCA of Alton – Area around their building
Alton-Godfrey Rotary Club – Olin Park – 1200 State Street
L&C – Trailblazers Give Back – Homer Adams near the Post Office & Popeye's
Imperial Manufacturing – Cpl. Chris Belchick Memorial Expressway, and the parking lot off of William Street near the prison wall
Rotary Club of the Riverbend – Milton Rd. from Broadway to Brown
Boys & Girls Club of Alton – Streets surrounding their facility
Middletown Neighbors – Blair St. from Alby to Henry
Junior League – Oakwood Ave. from Buckmaster Ln. to the Cemetery
GLAD (girls learning and developing) – Oakwood Ave from Alton Square Drive to Buckmaster Ln. including Toledo, plus Alton Acres & Belle Manor
Alton High School National Honors Society – Area around Central Ave & E. 7th St.
Knights of Columbus #460 – E. 9th St. from Belle to Liberty
Marquette Catholic High School – Area around their building
Arrow Signs – Industrial Drive by Sherwin Williams, and Alby Street near the old City landfill and fence line by old Blockbuster
Club Paws – Area around their building
Alton Little Theater – North Henry St. from 20th to Elm
Pride, Inc. – Alby St. from 3rd St. to Elm
Kiwanis Club of Alton-Godfrey – Oakwood from Alby to Alton Square Dr.
LCCC Student Sustainability Association – Union from Central to Brown, including Hellrung Park
Alton High FCCLA – Family, Career, and Community Leaders of America – Broadway from Ridge Street to Washington
Brown Street Baptist Church – Brown St. from Rock Spring Drive to Brown Street Baptist Church
Lifehouse Church – Alton Cemetery (Lovejoy Monument)
Principia College Students – State Street from Joe K's to Schnucks
---