Downtown Alton Chili Cook-Off
Has been cancelled for 2022
Check back in the spring as to whether the event will continue in 2023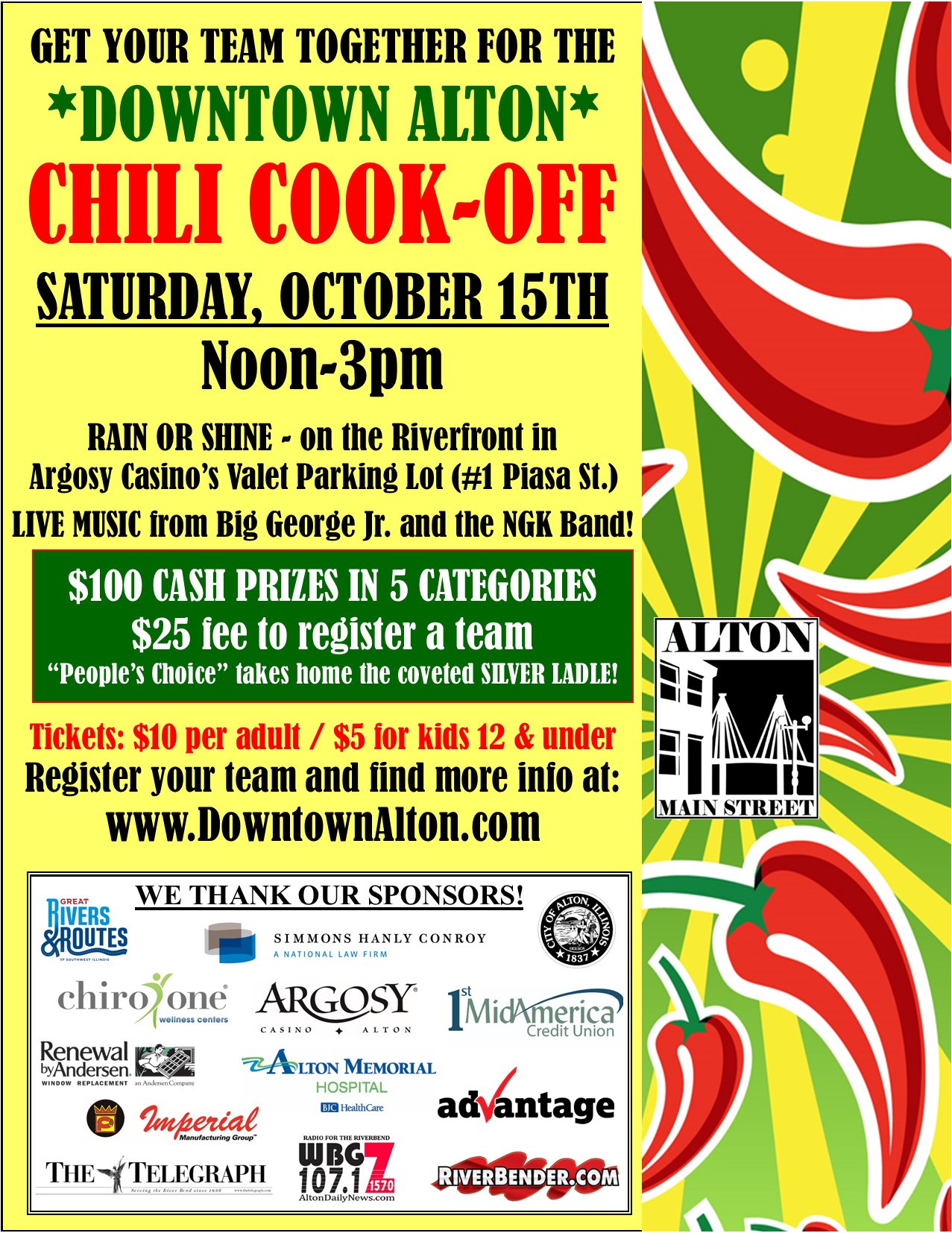 Alton Main Street invites you to join the fun at the Downtown Alton Chili Cook-Off, to be held on Saturday, October 15th from Noon until 3:00 p.m.
RAIN OR SHINE – on the Riverfront in Argosy Casino's Valet Parking Lot (#1 Piasa St.)
LIVE MUSIC from Big George Jr. and the NGK Band!
The Chili Cook-Off is a great civic event that encourages local chili chefs (both amateur & professional) to match their favorite recipe with others in similar categories in this fiery competition.
Tickets will only be available at the door: $10.00 for adults & $5.00 for kids 12 & under. Your ticket gains you a sample of chili from each team.
Judges will award $100 prizes to winners in 4 categories: Individual, Organization, Business, and Restaurant. The team chosen as "People's Choice" will receive the coveted silver ladle and bragging rights. In addition to awards for the best chili, we are also giving a $100 prize for the best-decorated booth, so come prepared to put your theme as well as your chili on display!
REGISTERED TEAMS
INDIVIDUALS:
Elisa Royce
David King
Michael Ramsey
Jesse Fassler
Ben Acker
Erin Heil- The Happy Heffer
BUSINESSES:
Olive Oil Marketplace
Argosy Casino Alton
Imperial Manufacturing Group
Mr. Everything
The Conservatory
RESTAURANTS:
Schoolhouse Grill at SSP
Heaterz
ORGANIZATIONS:
None yet!