Green Gift Bazaar
On Small Business Saturday, Nov. 26, 2022, from 10am-4pm
Join us for this 20th Annual event, which will be held at two locations this year to spread out the crowd. Stop by Post Commons (300 Alby St.) and Jacoby Arts Center (627 E. Broadway) from 10am-4pm to find 30 "green" vendors!
Why go through the hassle of Black Friday or risk impersonal customer service of Cyber Monday? Instead, make this season's gift giving a fun adventure by shopping with friendly local artists and independent businesses in your hometown historic district.
We partner with Sierra Club Illinois on this event which features a variety of environmentally-friendly gift ideas which are made from recycled/upcycled materials, Fair Trade, or hand crafted in the USA. Plan a day of shopping with your friends to celebrate "Small Business Saturday" and pick up unique, locally-made, eco-friendly gifts for everyone on your list, including herbal products, jewelry, art, ornaments, houseplants, clothing, and so much more!
There is no entry fee to shop at the Green Gift Bazaar, and we will also provide shoppers with sale info from downtown retailers and restaurants to encourage shopping local – don't miss this special occasion to share the historic downtown shopping & dining experience with your loved ones this holiday season.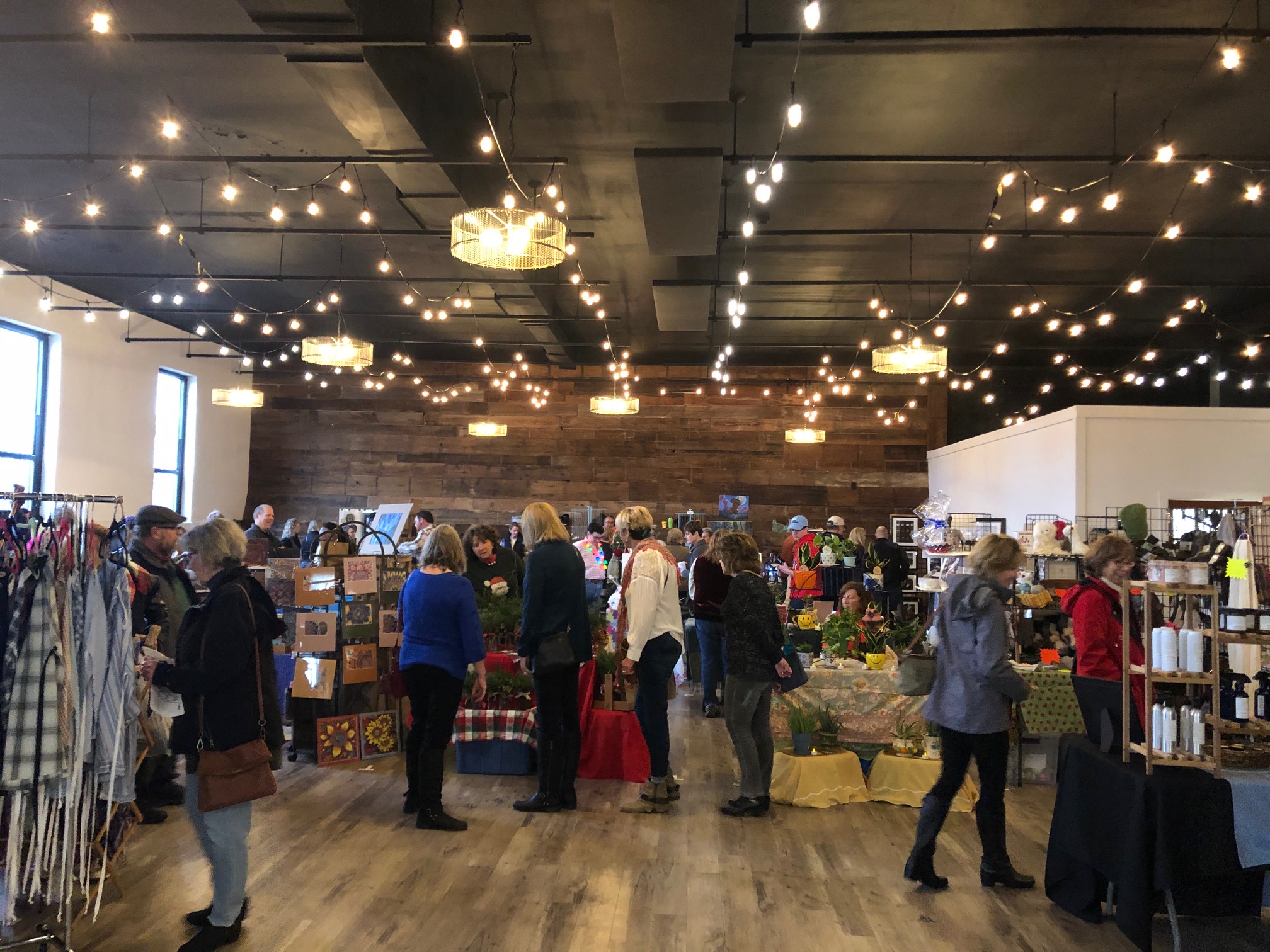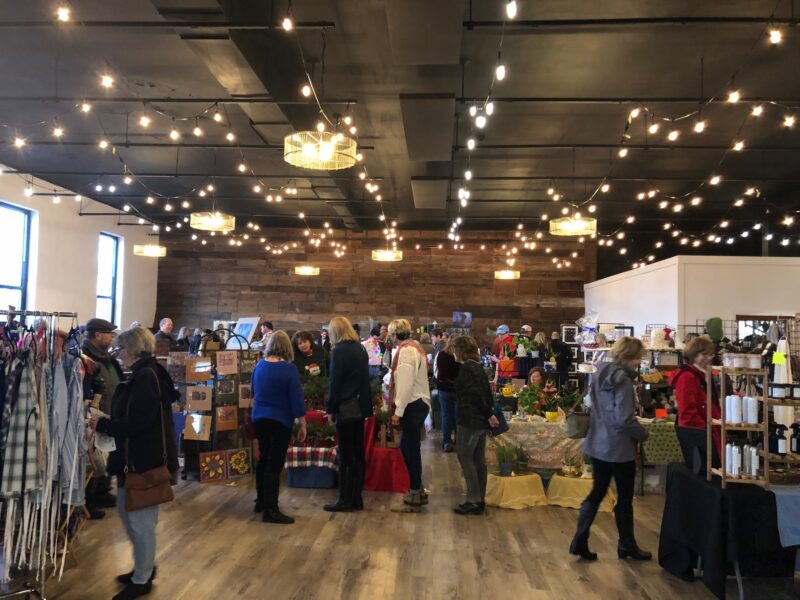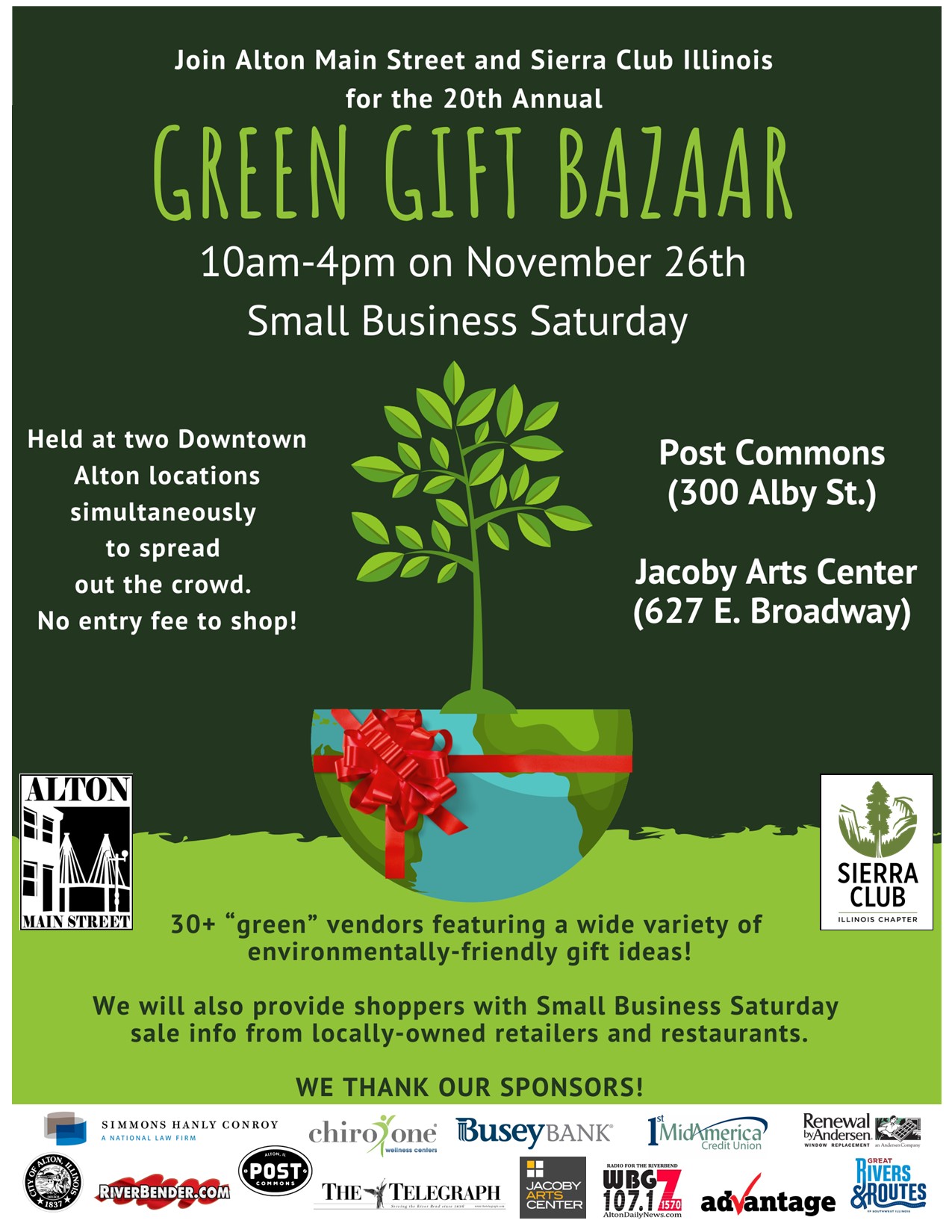 Vendors located at Post Commons, located at 300 Alby St.
Austin Curvey – Runemane Creations
Jean Lanham-Curvey – Curvey Creations
Maddie Shafer – Auric Visions
Chris mazzocchio – Kit kat this and that
Bea Show – Bea's Kaleidoscope
Niki Busler – Once Design
Jennifer Rulo – Sadobie
Barry & Connie Clayton – Carriage House Studio
Sharon Neal
Andy Neal/Mindy Griggs
Jean Connoyer – Black Horse Photography and Handknits
Daughter Nature
Amber Gavin – Lightning in a Collar
Sarah Bettes – Renegade Artistry
Natalie Emmons – Nats Looking Glass
Vendors located at Jacoby Arts Center, located at 627 E. Broadway
Dave & Adriana Daniel – Jabberwock Emporium
Laura Blair – Blair Lair Studios
Big TK Creations
Lynn Grimes – Route 143 Kids at the Mud Headquarters
Calla Bruce – Black Rose Botanicals
Mike and Carla Maynard – in like flynn designs
Miranda Schaaf – MandiMoCreations
Katie Piper – KTgrows
Theresa Callahan – Upon this rock
linda winfree
Kenny Kutter – Kenny's Cutting Boards
Stephanie Lucas
Emma Tiemann – Dry Heat Bolo
Brenda Chappell
Jenna Muscarella – Memento Paintings
La'Crassia Wilderness – Butter Love Skin
Heather Buncher – Love Bark Play
Brianna Hill – Honeycut Creek
Zelli Githui – Gitzell Fair Trade International
Teri McGinnis – My Generation Alton
Julie Campbell – Jewelry and Gems
Kyle Luzynski – Project Animal Freedom
Crystal Stevens – Flourish
Rhonda Golden
Stephanie Anderson
Charity Davis-Woodard – Honeywood Hives
Kathi Beyer – Riverwind Farm Alpacas
Sierra Club
Ameren holiday light exchange
Renewal by Andersen
Chiro One