Public Art Projects
Alton Main Street recognizes the important role that public art and a beautiful streetscape can play in the revitalization of an area. We are proud to support Alton's local art community by providing opportunities to create and thrive, while simultaneously helping create a welcoming downtown and a beautiful Alton that all can enjoy. Our Design Committee works tirelessly to establish the downtown area as a haven by creating and caring for our downtown greenscapes and flowers, coordinating holiday decorations, and cultivating  public art created by area artists.  Below you will find a sampling of the artistic endeavors that Alton Main Street helps to enable.
Alton Dog Park Picnic Tables
In 2019, Alton Main Street donated three picnic tables to the Alton Dog Park at Russel Commons Park (adjacent to the Alton Marina).  The Design Team, led by Emily Keener, then put out the call for area artists to submit designs, which were voted on by the Alton community at large via social media (Facebook).  Alton Main Street then paid a stipend to each of the three chosen artists to fund their creations.  The finished tables were displayed at the 2019 Mississippi Earthtones Festival. Residents and visitors can now enjoy them at the Alton Dog Park.
Riverbend Yarn Bomber Collaborations
A "Yarn Bomb,"is a public art installation that uses knitted or crocheted yarn to create street art rather than paint or chalk. The Riverbend Yarn Bombers was originally organized by Laura Blair as an effort to introduce this unique fiber art to the Alton area and bring together local fiber artist for large scale public displays.  As their first major project, the group decorated the exterior of the historic Jacoby Furniture building, in 2014 the festival grounds of The Big Gig Local Music Show were decked out, and in 2015 the same was done for Rock the Hops venues.
3rd Street Yarn Bomb
The Riverbend Yarn Bombers approached Alton Main Street for a possible collaboration, and we welcomed this colorful way to help infuse the arts into the fabric of our community. The first collaboration saw the lamp posts and trees of downtown Alton become festooned with color.
Annual Scarf Bomb
In 2014, Sally Kirbach, who was a member of Riverbend Yarnbombers and was later elected to join the Alton Main Street Board, introduced the "Scarf Bomb", and this has now become an annual collaborative.  The Scarf Bomb takes place when the weather turns cold.  Artists create beautiful scarves, mittens, hats, and other yarn creations specifically geared to provide warmth as well as beauty.  These creations are then left all over the downtown area for any who may need them, thus combining art and compassion.
Mississippi Earth Tones Festival
The Riverbend Yarnbombers have presented public installations annually at the Mississippi Earthtones Festival. Their exhibits are often interactive, allowing guests to touch and feel the creations and children to play, fostering a love of art in the young.
Public Art Displays at Night Market on Broadway
Throughout the Summer Months, Alton Main Street hosts a unique weekly event that brings together the diverse community of Alton at the Night Market on Broadway. Visitors enjoy live music and handmade products in a setting that stretches from inside Jacoby Arts Center to the beautiful Pocket Park outside.
Alton Main Street strives to encourage local arts and music, and Night Market provides a unique opportunity for artists specializing in large scale public art to share their creations with an appreciative public.
Alton Main Street offers a stipend to large-scale artists wishing to set up an installation at Night Market.  If you are an artist interested in taking advantage of this opportunity, please email [email protected] for more information.
Downtown Alton Murals Funded & Coordinated by Alton Main Street
Alton Main Street recognizes the importance of art in everyday life.  Public art plays a vital role in fostering community pride and creating a positive environment where residents can thrive.
Alton Main Street has enabled several beautiful murals throughout our downtown district.  All artists receive fair financial recompense for their wonderful creations.
The Mural Off Broadway
In 2018, Alton Main Street commissioned Artist Aaron Heil to create a colorblock mural on the reverse side of the current Luciana's Building on Broadway.  This mural is visible from the main roads entering Alton and provides a colorful welcome to visitors coming to Alton across the Clark Bridge.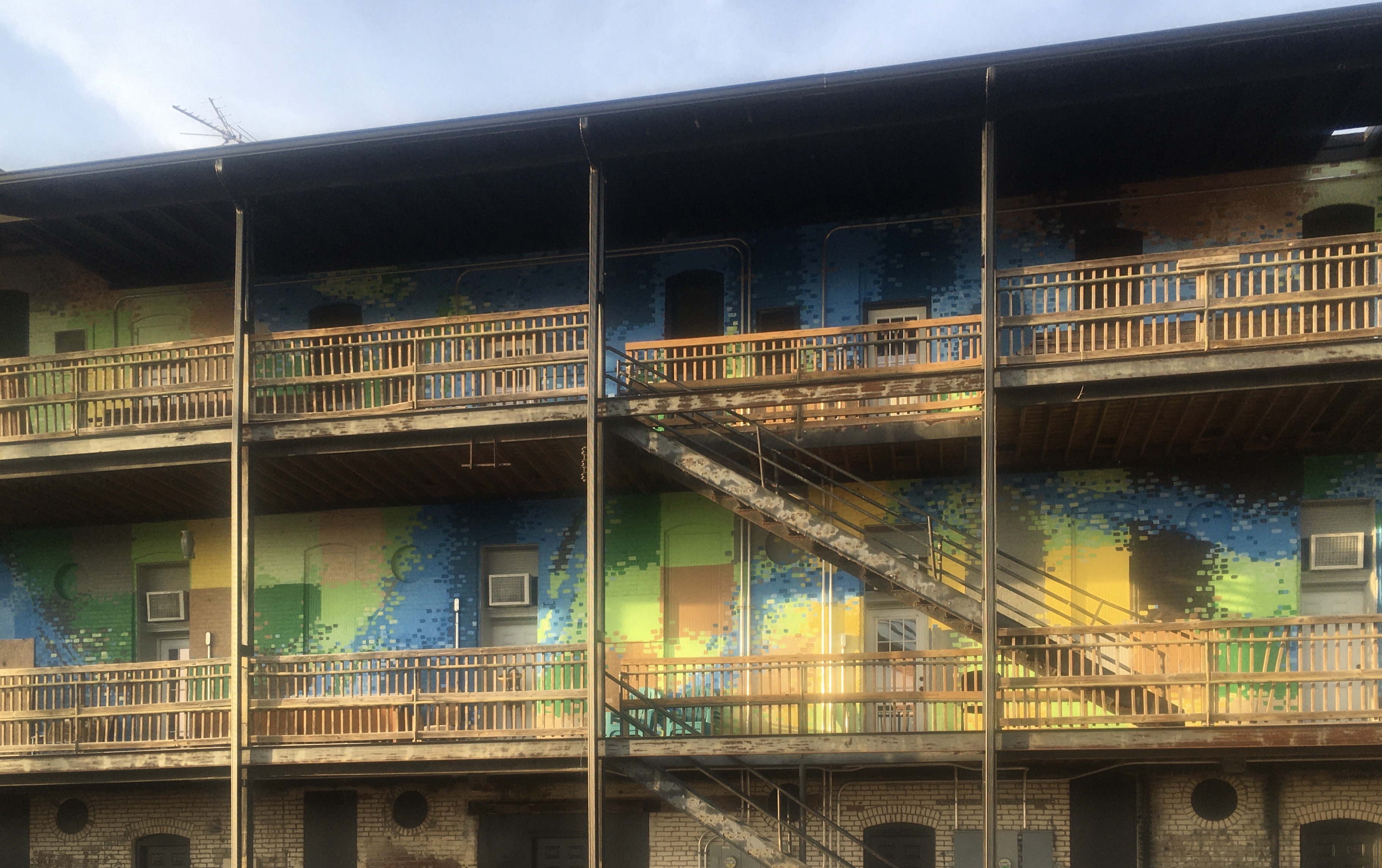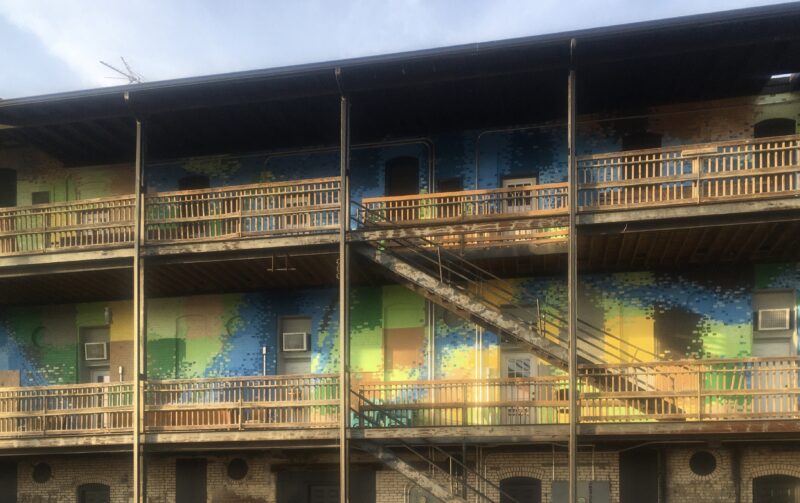 Abundance
This ambitious project stretches over much of one side of a building on Ridge Street and was designed and coordinated in 2014 by Principia Visiting Professor Anne Farley Gaines and eight of her art students: Lauren Beisel, Caleb "Bucky" Brewer, Serkalem Carper, Phil Drake, Bryan Gerould, Janet Mulwenge, Juliette Roy, Lukh Sentongo.  Other faculty and students also assisted in the creation of this piece; a full list of participants can be seen on the mural itself and in the picture below.
A River Runs Through US
During the summer of 2012, the AMS Design committee led by Sarah Neal chose to organize a children's mural project, with the theme of "A River Runs Through Us". Theme illustrates the importance of grooming our children to be active citizens in their communities while recognizing the significance of the Mississippi River in our local culture.
Artist Jeanie Cousley was selected to paint colorful scenes of life on the river on a wall at the well-traveled intersection of Piasa St. (US Hwy 67) and 9th Street, which is the endcap of the Main Street district. Over 200 children were involved in painting the masterpiece, including a field trip of students from Riverbend Head Start & Family Services.
Alton Main Street thanks our many private donors and volunteers who made the project possible along with support from Jacoby Arts Center, Illinois Arts Council, Alton Community Service League, Alton Foundation, and Sherwin-Williams.